The Taste of Buffalo Culinary Stage


The Taste Culinary Stage features the best in local culinary talent.
This area is an intimate venue for getting up close and personal with the finest chefs in Buffalo
as you watch their cooking demos and competitions. Seating is FREE and is first-come, first-served.
LOCATED IN NEW ERA CAP FRONT PARKING LOT
---
Saturday, July 8th 2017
12pm - 1pm
Lidia Bastianich LIVE presented by TOPS Markets
Sponsored by TOPS Brand Olive Oil

VIP is full and closed.
Watch Lidia Bastianich prepare one of her Italian specialties, Linguine with Shrimp and Zucchini-Linguine con Gamberi e Zucchine and get a taste of the finished dish! Stay for a Q & A and meet Lidia after the show!
Lidia is an Emmy award-winning public television host, a best-selling cookbook author, restaurateur, and owner of a flourishing food and entertainment business. She is the chef/owner of four acclaimed New York City restaurants - Felidia, Becco, Esca and Del Posto, as well as Lidia's Pittsburgh and Lidia's Kansas City along with her daughter Tanya. Along with her son, Joe Bastianich, Mario Batali, and Oscar Farinetti, the team opened Eataly, the largest artisanal Italian food and wine marketplace, in the Flatiron District of New York City and at the World Trade Center in New York City. She is the founder and president of Tavola Productions, an entertainment company that produces high quality broadcast productions. Lidia also has a line of pastas and all natural sauces called LIDIA'S.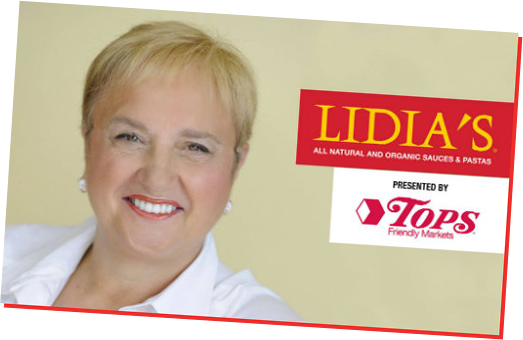 3:30pm - 4:15pm
Grilled Cheese Battle!
Sponsored by TOPS Brand Cheese and TOPS Bakery Fresh Bread!
KID'S COMPETITION! Competitors and kid judges will be chosen from the audience. What kid doesn't love an ooie-gooie grilled cheese sandwich? We'll select two kids (between the ages of 8-12) and their adult, to team up and compete to see who can make the best grilled cheese. A panel of kid judges will choose the winner!
4:45pm - 5:45pm
Perfect Veggie Burger
Ever want to make your own Veggie Burger on the grill? Here's your chance to learn how. Watch one local Chef demonstrate how to make the perfect veggie burger and leave with the recipe! Samples will be provided to the audience.
6:15pm - 7:15pm
Brews and BBQ on the Big Green Egg
Come root for your favorite chef as two battle it out and create their BBQ masterpiece using Flying Bison beer. One member of the audience will be selected to join the judges panel that will include local chefs and foodies.
7:30pm - 8:15pm
Homebrewing 101
If you've always wanted to try to brew your own beer, come watch local brewers along with homebrewers demonstrate how to make a batch of beer at home. Tops Brand Products will be sampled to the audience.
---

Sunday, July 9th 2017
12pm - 1pm
All about eggs Sponsored by TOPS Brand Eggs!
KID'S COMPETITION! Kid competitors and kid judges will be chosen from the audience. Eggs for breakfast, lunch or dinner! Two local chefs along with two mini sous chefs (kids between the ages of 8-12) will compete head-to-head to create a dish using Tops Brand eggs. The judges' panel will consist of 4 kids (between the ages of 8-12)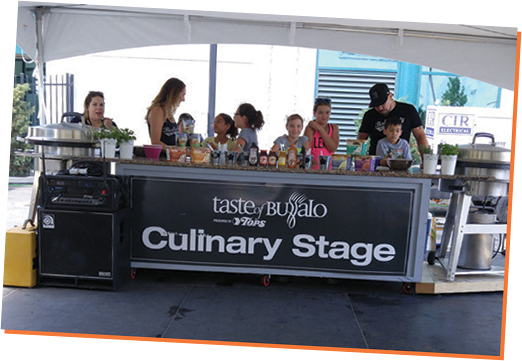 1:15pm - 1:45pm
Process and benefits of Kombucha and fermented foods
Have you been wondering what all the hoopla is around fermented foods and drinks? Barrel and Brine will demonstrate the process of making Kombucha and fermented foods. A guest nutritionist will explain all its benefits. Samples of Kombucha and TOPS Brand Products will be provided to the audience.
2:30pm - 3:30pm
Get smoked!
Mmm that smell! Watch a local chef demonstrate smoking and grilling techniques using the Big Green Egg and different types of wood. Biggreenegg.com, artisankitchensandbaths.com
4:30pm - 5:15pm
4th Annual Lockhouse summer cocktails competition
Making craft cocktails is an art. Come see what goes into making those fantastic libations you're drinking at our local bars and restaurants. Mixologists will compete using local Lockhouse spirits