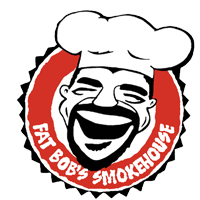 Fat Bob's Smokehouse
At Fat Bob's Smokehouse we take pride in both our great service and our award-winning barbecue food. We feature authentic smoked meats straight from our custom built Texas smoker, as well as traditional sides, seafood, appetizers, and desserts that are sure to please your appetite.
Menu
- Healthy Options designated items are lower in fat, cholesterol and sodium.

* - Taste Item: The item listed FIRST under each restaurant is also available in a smaller "taste" portion.